Antifibrotics effects of nintedanib on lung fibroblasts derived from patients with progressive fibrosing intertitial lung diseases
- 09/03/22
Doi : 10.1016/j.rmr.2022.02.048
A. Joannes 1, ⁎

, C. Morzadec 1, F. Llamas Gutierrez 2, B. Richard De Latour 3, L. Wollin 4, S. Jouneau 1, 5, L. Vernhet 1

1 Univ Rennes, CHU Rennes, Inserm, EHESP, Irset (Institut de recherche en santé, environnement et travail)-UMR_S 1085, France 
2 Department of pathology and cytology, Rennes University Hospital, France 
3 Department of Thoracic, cardiac and vascular surgery, Rennes University Hospital, France 
4 Boehringer Ingelheim Pharma GmbH & Co, KG, Biberach an der Riss, Germany 
5 Department of Respiratory Diseases, Competence Center for Rare Pulmonary Disease, Rennes University Hospital, France 
⁎Corresponding author.
| | |
| --- | --- |
| pages | 2 |
| Iconographies | 0 |
| Vidéos | 0 |
| Autres | 0 |
A larger group of patients with differing clinical interstitial lung diseases (ILD) develop a progressive fibrosing (PF-ILD) phenotype during the course of their disease despite immunosuppressive therapy. The kinase inhibitor nintedanib is approved for the treatment of the most agressive fibrosing ILD, idiopathic pulmonary fibrosis (IPF), and was recently reported to exert positives effects on patients with PF-ILD. In order to highlight the in vitro anti-fibrotic properties of nintedanib in non-IFP PF-ILD, we investigated its effects on main functions of human lung fibroblasts (HLFs) isolated from patients with progressive-fibrosing phenotype like chronic fibrotic hypersensitivity pneumonitis, sarcoidosis, idiopathic nonspecific interstitial pneumonia and unclassifiable ILD.
PF-ILD HLFs were pre-treated with nintedanib (0.01–1μM) and stimulated with PDGF-BB (25–50ng/ml) or TGF-β1 (1ng/ml). PDGF receptor and ERK activation, proliferation, migration and differentiation of cells were assessed.
Nintedanib in a range of 0.01 to 1μM strongly blocked the phosphorylation of PDGF receptor and decreased ERK1/2 phosphorylation induced by PDGF-BB. The pro-proliferative and pro-migratory phenotype driven by PDGF-BB were also significantly reduced by nintedanib from 0.03μM without affected the cell viability. Moreover, the drug also decreased, in a concentration dependant manner, TGF-β1-induced myofibroblastic differentiation by down-regulating mRNA and protein expression level of collagen, fibronectin, α-Smooth muscle actin and the phosphorylation of SMAD2/3 signalling pathway.
Our data demonstrates that nintedanib, as described in IPF, counteracts the detrimental functions of PF-ILD fibroblasts and are in favor of the management of PF-ILD with this drug.
Le texte complet de cet article est disponible en PDF.
Mot clé : Pathologies interstitielles
Plan
© 2022 Publié par Elsevier Masson SAS.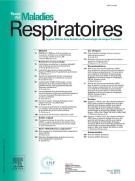 Bienvenue sur EM-consulte, la référence des professionnels de santé.
L'achat d'article à l'unité est indisponible à l'heure actuelle.
Déjà abonné à cette revue ?